Kari Switala is a sought-after speaker who brings inventive, out-of-the-box energy and a truly unique perspective on marketing business. Kari launched Wild Fig Marketing, a boutique marketing firm that is passionate about helping small businesses. The visionary of the team, she brings intuitive enthusiasm from her 16 years of experience in marketing strategy and small business consulting.
See Kari in Action
Kari has appeared on Kare 11 at 11:00 to promote her new book and has enlightened audiences across the globe with her speaking services. One of her most recent opportunities was for an Accelerated Global Connections Networking event. You can check out both below!
Kare 11 News Appearance
AGC Speaking Event
Training Program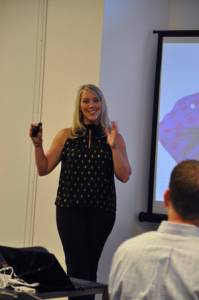 Bring Kari on board to train your staff, or partner with her to deliver a program to an audience of your prospects or the public–a great strategy to enrich your list while generating goodwill and establishing your company as an expert.
Kari's most popular topics include:
Figstory: The Art of Using Stories to Cultivate Relationships
How to Fix Your Follow-Up
Building Life-Long Customers: Harnessing the Power of Email Marketing
We can craft a presentation on almost any topic — just ask!
We also offer Corporate LinkedIn Training.
If you would like Kari to speak at your next event, please reach out today.